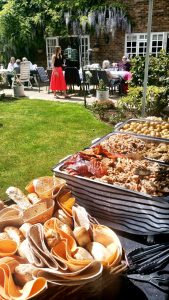 Hi there hog roast lovers. Welcome to Hog Roast Dudley, home to the most mouth-watering hog roast catering services in the West – the West Midlands, that is!
We'd like to offer you our sincere thanks for checking us out and finding out a little more about what we do. We hope you find all the information you need, but please don't hesitate to get in touch if there are any further questions you'd like to ask.
Bespoke Event Catering
Hog roast Dudley offers a tailored hog roast catering service to suit event and celebrations of any type and size. Our expert chefs and catering teams have spent more than a decade working in and around the area of Dudley, helping people just like you to host a day to remember. From back gardens to fields full of revellers, we've seen it all, and we'd like to reassure you that whatever your plans, we're the catering team you can trust.
Events we cover include:
Birthday bashes
Corporate events
Wedding celebrations
We appreciate that not all events are hosted outdoors in a large space with plenty of room for serving tables and gas cylinders and gazebos. That's why along with our eye-catching outdoor setup we also offer our expert hog roast catering services in much less spacious environments, such as inside a social club or in the corner of a village hall. If you're planning an indoor event, and if you'd like to treat your guests to the exquisite tastes and aromas of hog roast catering, we can help.
Fresh Local Produce Guaranteed
All of our fresh and tasty produced is sourced from local produce vendors. Not only does this guarantee that you receive the most succulent meats and the crispest vegetables, but with our knowledge of seasonal suppliers of a range of foods we can help you to plan a truly unique and exciting menu.
Extra Menu Options
Although the juicy and tender hog roast meat forms the mainstay of our services, everybody likes to know what other kinds of foods may be available between courses. That's why we offer a range of hog roast machine accessories to boost your menu.
Hog roast machine accessories include:
BBQ Grill – Our popular BBQ grill fits on top of the hog roast machine, giving you the option of burgers and hot-dogs and bacon etc. to keep your guests coming back for more.
Spit roast (up to 36 large chickens) – The spit roast accessory is also perfect for roasting sides of beef, legs of lamb, pork joints, and even large fish or vegetables.
We hope you have a better idea of what you can expect from our specialist hog roast catering services here at Hog Roast Shropshire. Our friendly staff are always on hand to answer your questions and help you to plan the catering element of your next event. Get in touch today to find out more about how we can help to take your plans from the page to the plate.